Posted By: Cristina
Babies on the way!! -

04/16/07

09:29 PM
It's been awhile since I posted on here and I just wanted to share with you guys that my pair Panchita and Chevy are expecting babies. The strange thing is that the nest box is outside the cage and I had put it inside the cage but Panchita is a wild child and she hates being inside the cage during the day. Long story short, she was spending a lot of time in the nest box until she eventually laid her first egg which was on March 30, 07 and ever since then she has been inside the box and comes out only to eat, stretch and also poop enormously! She laid a total of five eggs and the first one is set to hatch tomorrow!! and I can't wait!! This is my first time breeding and it's Panchita's first batch!! I am planning on keeping all the babies but my parents are also interested on getting some babies but I don't know if I will be able to give them up since I already feel attached to these 5 eggs.
Also one more thing, she has 2 males that are crazy about her which is Chevy and Cuchito and I know this sounds crazy but she loves Cuchito but Chevy is the father of the chicks and Cuchito isn't the father but he spends the most time with her and is always peeking his head outside the nest box and feeding her.
Here are some pictures:
Those are the eggs!! my grandchildren!! lol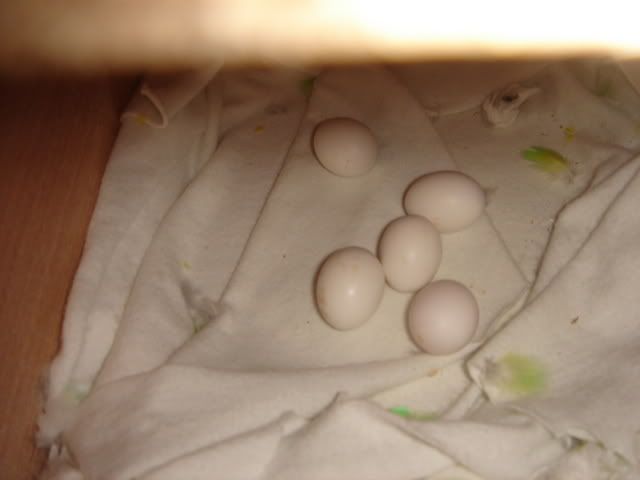 These are the proud parents but I think Chevy (on the right) is more the sperm donor.
and this is Cuchito, he is taking care of her all day long and though he isn't even the dad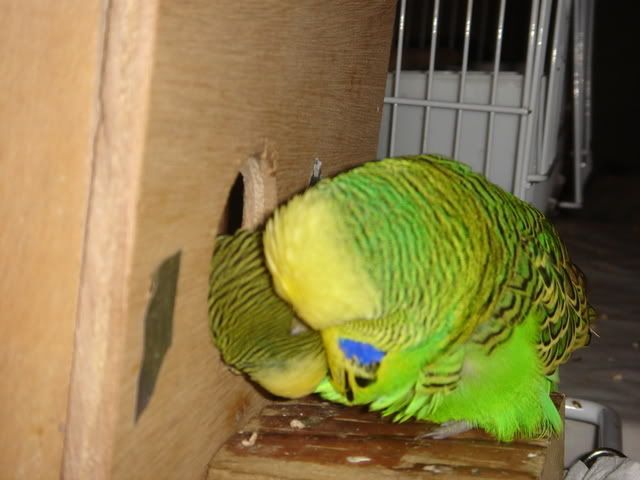 Hope you enjoy it!!