Posted By: TigerBluEyez
Update on my budgies... with PICS! -

01/22/07

09:05 PM
For all of you confused or anything about my budgies, here is an UPDATED story about the little angels!
I took in a budgie named Violet about a week and a half ago. She is now going to a good new home to help her recuperate as she came from an overcrowded cage, etc. She's a real beauty and I will try to get pics of her before she leaves tonight. I'll miss her but I already have my hands full and she needs a bit more attention than I can give right now. My dog (in my avatar) has bad ear infections and Dad and I are busy fighting that off... ugh! So expensive!
I now have FIVE budgies (not including Violet). I have the new HQ cage, which I got from BirdsComfort.com. It's AMAZING! I do hear that WindyCityParrot.com is better though for those of you looking for it (they have the same cage for about $120, free S&H). I have four of my budgies in the big cage and plan on keeping it at a max of four.
My NEWEST bird, Belle, is most likely a female. She is a dominant pied, white with some really striking blue on her "shoulder" areas and back under her wings. She is set up in one of my old cages for now, but I hope to get a wider one for her soon (possibly try to find someone to trade cages with or sell these two older cages to save up for a new one). She is BEAUTIFUL as well! Here's her pic: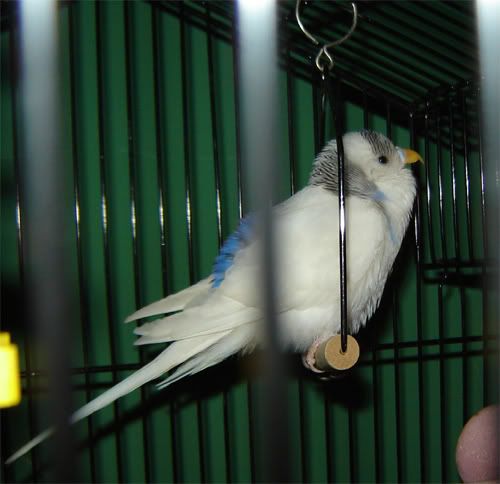 My other bird that was named Belle is ACTUALLY a male! So I have renamed him Huey. HE is a recessive pied, all yellow with a little green under his wings on his back and on his belly. I now have Huey, Snow, Sammy, Lucy, and the NEW bird Belle! Three males and two females. Here is a picture of Huey (the FORMER Belle):
Sammy and Lucy are happy as always. Lucy is a lutino and Sammy is a yellow-faced sky blue? Something like that... I don't have any good new pictures of them but here they are together: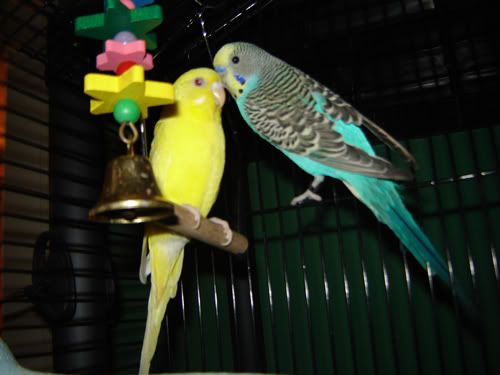 And of course, I can't forget Snow, my all white dark-eyed clear: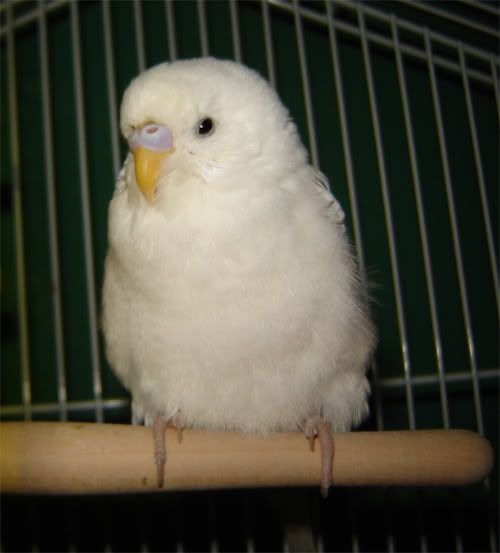 So that's it! I am working on getting newer pics, but my batteries are going dead from taking so many! Oh, and here is a picture of the new cage: